Permaculture Farm Manager Job Opening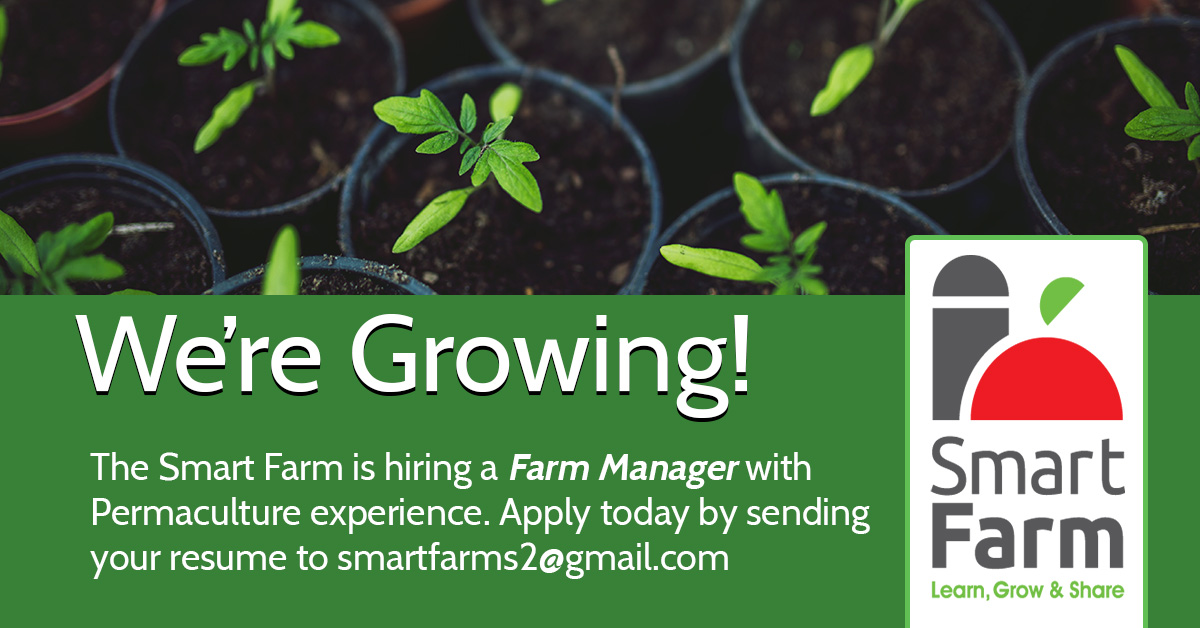 We're Hiring!
The Smart Farm is looking for a Permaculture Farm Manager to oversee the daily operations of our farm including vegetable & fruit production, farm maintenance, managing volunteers and educational programs, among other tasks. Please see complete job description and requirements below. 
Any interested candidates should send their resume to Kathy Gabelman at smartfarms2@gmail.com by October 31, 2019.
Job Description:
The Smart Farm is looking for an exceptional candidate to fill the role of Farm Manager with a strong emphasis on permaculture (regenerative agriculture). The Farm manager will oversee all day to day farm operations. An interest and enthusiasm for farm- based education is highly important aspect of this position. The farm manager works with the Smart Farm team to facilitate educational tasks on the farm.
The farm manager will possess strong experience and knowledge of permaculture which cares for the whole system of people, plants, soil and production. The key tasks will involve strategic planning, managing team workers, engaging new relationships within our community and getting the work done. Applicant will need to have a strong motivated work ethic, excellent people skills, have a clear-organized mind and be self directed.
Main Responsibilities:
Oversee all vegetable and fruit production, with attention to soil building, nutrient management and organic practices. Production is year-round and includes a heated greenhouse, hoop house, and field production.

Provide weekly supervision and scheduling activities for our Volunteer/Ops Manager and part time farm assistants.

Oversee Farm Maintenance including facilities, machinery (BCS walk behind tractor & attachments, riding tractor, van, hand tools), and cropping systems

Develop and monitor irrigation systems and hand-water when needed, including creating and managing a water schedule for the greenhouse, hoop house and production fields.

Coordinate basic plumbing, electrical and construction work as needed

Work with the Executive Director, Treasurer and Farm Volunteer/Operations director, to create annual production goals, develop a system of record keeping and management and an annual farm budget.

General Clean up.

Assist Volunteer Manager with hands on farm-based education including providing the VM with a weekly list of farm tasks that match with the educational goals 

Assist in leading farm tours and occasional workshops, as well as speak at conferences

Other general tasks as requested by the Executive Director.
About the Smart Farm of Barrington
The Smart Farm is a 501©3 non-profit educational farm with a mission to improve the overall health and wellness of children and families throughout the Chicagoland area. We connect children and families to nutritious food through: 1. hands-on farm-based education and 2. access to healthy local food. Our goal for our new property is to create a Food Forest for children and families to enjoy for many generations. 
The Smart Farm cultivates 3 acres of mixed vegetables and perennial fruit on our 10-acre permaculture farm in Barrington, IL on a hospital campus. Currently 90% of our produce is donated or used in educational programs. In addition, Smart Farm partners with our local hospital and conservation organizations.
Early Conceptual Permaculture Design

Included annual garden with deer fence, greenhouses, rain gardens, bioswales and linear food forests.